Blooper Eel
This is acrazy bloopy mind-altering drone synth built using a printed circuit board and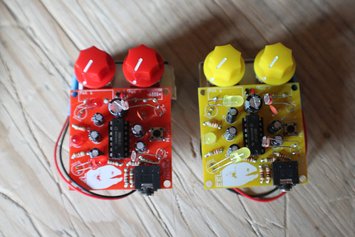 a soldering iron. Blinky lights and outrageous sounds help participants learn to solder and build this fantastic bleeping cmos noise synth that boasts four light-controlled pulse -wave oscillators one of witch has sync and two LFOs that modulate the oscillators via LEDs. Its fantastic fun to play with.
Depending on the age and experience of the participants this typically takes 1-2 hours
I will typically tailor the printed circuit board for each workshop and can include your logo or image on the circuit board, the one imaged to the left was made for Bandorg.
VIDEOS: