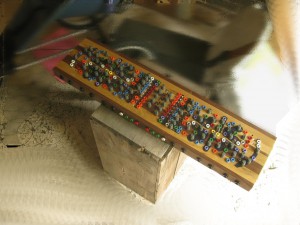 As the maker puts it:
"My name is Plumbutter. My face is a psycho-geographical map of the cities of Baltimore and Cleveland. I am a drum-machine, but let me tell you I am more than that, for I also am a "drama machine". Thus there exists in me, a dialectic between drum and drama, like cops and gangsters, male versus female, or rural versus urban. You can see my wild spaces are represented by a deer-horn, and my downtown by a factory, and in between, a vast swath of suburban developments. It is a gradient of these three areas- urban, suburban, and rural- that informs my electronic synthesis."
play them all at once!
you can learn more about this strange cryptic cult-synth here http://ciat-lonbarde.net/plumbutter/
Circuit board and some more crazy runes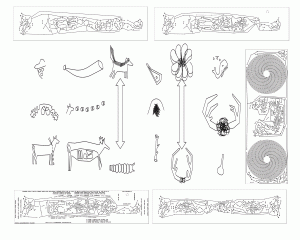 Oh and you can buy one here:
http://www.synthmall.com/ordering.html